Mike's Mid-Week Chat: How will the Packers handle the Bills' weapons? – Packers. com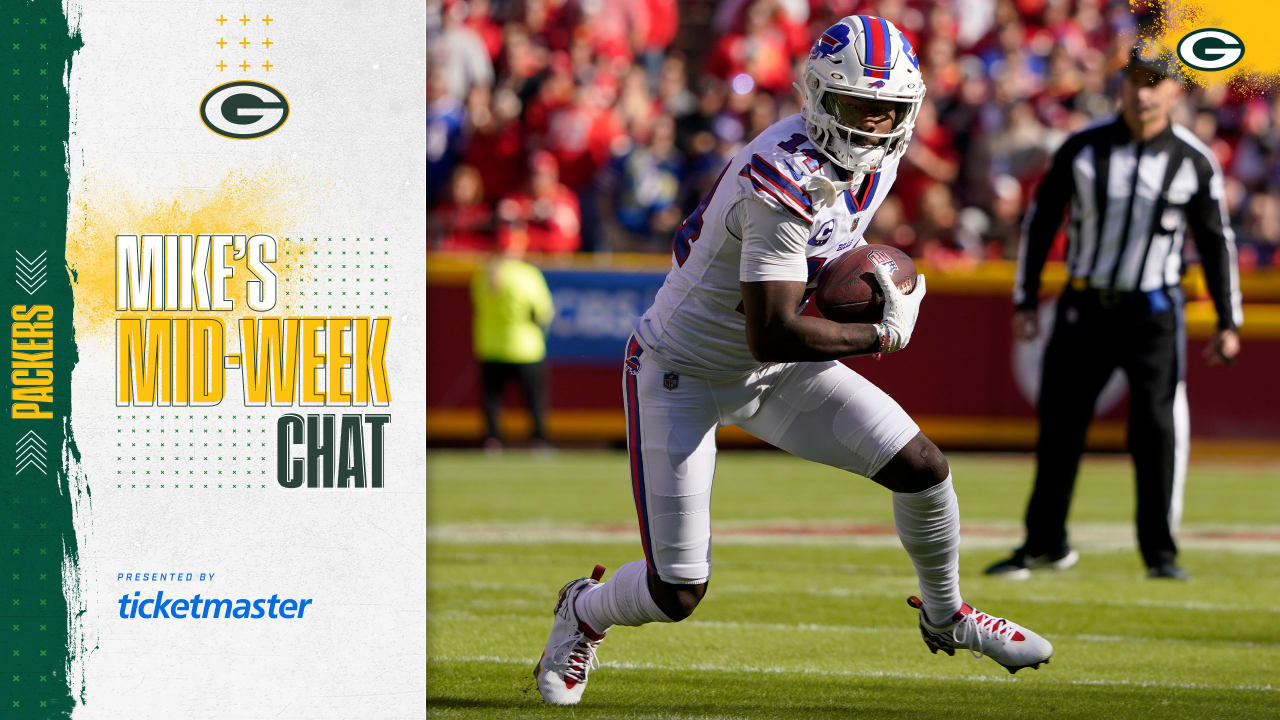 Toure took some return reps in training camp, if I recall, but Doubs is next up in that area as far as I know.
Do you think BG looks at the current situation and decides a quick fix isn't worth trading in the future? I am hoping they make a deal for a projectable, young WR but at what cost? Maybe standing pat is the most viable path.
I think it will depend on the cost. If he feels it's worth it, he'll make a deal. But he's not looking at potential upgrades with the mindset that cost is no object. That's not how he operates.
Why do you think Rodgers isn't taking those 7-8 yards? Especially with so many drops/questionable accuracy lately? He doesn't seem immobile. Kind of puzzling to me. They should net positive yardage on every play possible in light of the recent lack of first downs plus minimal offensive production.
I don't know. I can't get inside his head there. I think when he's made those throws, he's seeing the opportunity for any bigger perform than exactly what he can obtain with a run/slide. Aside from that, your guess is as good as mind. But as I said before, I don't think it's happened a bunch. Here or presently there maybe.
Is the Washington press box the worst or close to it in the league for reporters?
Yes. The view is the worst one I can think of. Doing the live blog, I would've been better off covering the game off TV.
Are the Packers documenting what Bisaccia is doing so that whenever he lands a head coaching job, someone can step in and continue their coaching style/effectiveness? ST still has issues, but I think Bisaccia has done a great work, though we still have execution issues, which is on the player(s).
Every coach is going to have his way of doing things. Copying someone else does not generally lead to success. Whenever Bisaccia's time with the Packers' ST comes to an end, a new coordinator will be hired because of who he is and what he can do, not exactly how well he can copy Bisaccia.
As much as we knew losing Devante would be tough to overcome, it seems the departure of MVS is leaving a bigger scar. While Adams would certainly help the 3rd down success, don't you think the bigger problem on a down to straight down basis may be the lack of the field-stretcher? Watson and Watkins were likely supposed to assist that yet there is apparently no "next man up".
Teams are playing two deep safeties most of the time against the Packers, so I don't believe the issue is the lack of a deep threat to scare them. They're sitting back because they don't believe the Packers can execute a dink-and-dunk drive all the way down the field without making a mistake. A lot of the period lately, they've been right.
Mike, exactly what did you think of the Bears performance Monday night?
I have to admit, I didn't see it and was surprised by the score. It looks like there's a lot of QB confusion or controversy going on in New England. That said, Fields is an athletic QB with a lot of tools, plus he's going to keep getting better. A lot of fans wanted to see more by now, but his arrow is still pointing up.
Internet sleuths have noticed that one of Mac Jones' INTs against the Bears was deflected by the skycam wire. Have you ever seen that happen prior to?
Wow, no, and I hadn't heard that. That's crazy.
So , how can they sit an entire offense? Asking for a friend….
Seriously, is it a good idea, even for a HOF QB, to say that they should sit players who make mistakes?
We don't know what's a good idea or even bad idea right now. All I know will be the way they are going about things upon offense isn't working. LaFleur has said as much. What's their approach going forward? He's not going to tell us. He's just going to keep working at it.
How close is decision time for adding Kylin Hill back to the particular 53?
Good question. He's already been practicing for a couple of weeks now so they'll have to make a decision soon. We'll definitely keep an eye out for that.
Has anyone asked coach why this individual doesn't put Arod under center and run the ball on 4th plus short? He continually puts 12 in shotgun upon those. Crazy
I know he'd like for his QB to have a run-pass option in most situations like that. Yet lately, there's been acknowledgement the particular bum thumb has led to fewer snaps under center and more within shotgun, in general, the last two games.
Are the Bucs, Rams, and 49ers panicking now too? Actually, the 49ers might be since they traded most of their next draft for McCaffery…
They gave up a lot for a player who's been hurt a great deal, but that will wasn't a move just for this year. They're planning on CMC being a big part of their own team moving forward into the future, too.
I don't see how including a WR via trade (as some suggest) will help. Probably I'm wrong, but it does not seem like our problem is talent, but with performance. I'm not sure how you can teach "don't drop the ball", or "throw it better", but incorporating another body who will need to learn nuances quickly doesn't seem like the answer, to me.
I actually hear what you're saying, but I believe the injuries and lack of continuity have forced the particular Packers to look at the situation differently than they might've otherwise.
Any advantage to a team investing for a practice squad player instead of just poaching him? just wondering if the trading with regard to minor league prospects angle works in NFL?
Why would you give up something when you don't have to? If a PS player on another team wants to be on your 53, then you go get him. They aren't tradeable anyway, to my knowledge, because PS contracts are different from active roster contracts.
The particular Jones interception thing was called bunk by ESPN. According to all of them, the video will be misleading and the wire is at least 15 feet above the ball when thrown. It would seem the wire has been unusually low had this hit it, as the pass wasn't that high in general.
Thanks for the clarification.
All right folks, I've got to sign off right now. Thanks for all the participation, plus we'll chat again soon. Best, Mike.